Mission Statement
DCA Co-op exists to raise up children of good reputation, fill of the Spirit and of wisdom to go out and shine for God in the world. (Acts 6:3)
Vision
Our vision at DCA Co-op is that children will become creative, confident, bold men and women of God full of faith to accomplish God's will in the world.
Core values
Family: Family is the foundation on which values are built. DCA Co-op believes that parents are critical in the development and growth of our children.
Abiding in Christ: Personal Relationship with Jesus. Commitment to Prayer and Worship. Knowing and Obeying God's Word.
Membership
Registration/會員申請:
https://danielchristianacademy.regfox.com/dca-co-op-2022
Recent Event/近期活動
Davy Liu Creative Camp Orientation/劉大偉創意營說明會
Time: Sep. 14, 2022, 7:30pm.
Zoom meeting ID: 891 9920 8368, Passcode: DCACoop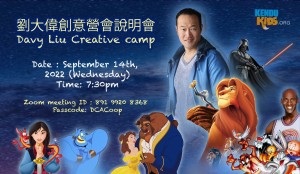 Davy Liu Creative Camp/劉大偉創意營
Time: Jan 2-6, 2023, 9am-4pm.
Registration link/營會註冊報名連結:
https://danielchristianacademy.regfox.com/creative-camp-2023